Complete Policy & Pricing
>
Complete Policy & Pricing

Say goodbye to stress and reward your senses with our exclusive treatments that are sure to make you feel invigorated. The Spa at Rosen Centre® offers everyone a means to treat the mind, body and soul. And to experience harmony in its finest form.
Download our Brochure
Click to Download PDF of Spa Brochure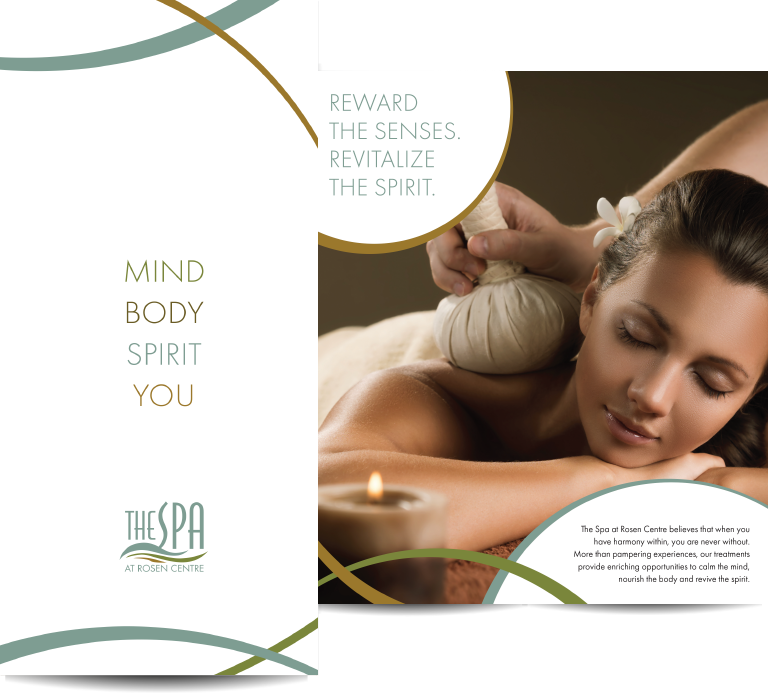 The Spa at Rosen Centre Guide
Age Requirements
Guests must be 18 years of age or older to use The Spa and Fitness Center facilities, and 15 years of age or older to use salon facilities unaccompanied. Younger guests 11 to 17 years must be accompanied by a parent during their Spa services and while in The Spa facilities, and 6 years to 14 years must be accompanied by a parent during their salon services. For their safety and as a courtesy to other spa guests, children are not to be left unattended in any area of The Spa facilities.
Appointments
Our Spa Concierge will be pleased to offer suggestions on services and the best order of treatments that are right for you. We recommend appointments be made in advance to ensure availability. A valid credit card is required at time of reservation.
Special Considerations
Please notify us when making your reservation if you are pregnant, have high blood pressure, allergies, any physical ailments, or disabilities requiring special assistance or if you are using Retin-A, Accutane, or retinol/glycolic products, as this may affect your choice of services. A brief questionnaire in our Personal Care Guide will also be completed upon spa check-in.
Choice of Massage Therapist
If you have a special request for a specific massage therapist or gender, please let us know when booking your reservation. We will make every effort to accommodate your requests based on availability.
Cancellation Policy
As a courtesy to other guests and staff, we strictly adhere to the cancellation policy. Any treatment canceled within eight hours prior to the appointment time will be charged for the full treatment price. Cancellation of multiple services requires twenty-four hour notice and private parties requires a five-day notice to avoid penalty.
Arrival
To get the most of your spa visit, we encourage arrival 30 minutes prior to your scheduled appointment so that you may enjoy a leisurely check-in, prepare for your treatments, use the steam room and de-stress with a soothing cup of tea in our relaxation lounge. Should you arrive late, your service will be modified and end at the originally scheduled time so as not to delay the next scheduled guest. The full value of your treatment will be charged.
Preparing for your treatment
A warm shower or use of steam is an excellent way to relieve stress and prepare your body for relaxation. Shaving is recommended for gentlemen at least two hours prior to a facial. Shaving is not recommended prior to body treatments or hair removal services.
Spa Attire
A spa robe and slippers will be provided upon arrival. Most body treatments are enjoyed without clothing and undergarments are not necessary; however, please disrobe to the level of your comfort. To ensure your comfort and privacy during your service, the body is fully draped except for those areas receiving the treatment. Loose fitting clothing such as shorts, and t-shirt are ideal for treatments received clothed.
Talk to your Therapist
Communication is the key to getting the most from your spa experience. Prior to your treatment's commencement, we encourage you to tell your therapist which areas you would like to focus on and any areas that should be avoided. Our skilled therapists are devoted to exceeding your expectations and ensuring your utmost relaxation. If at any time you experience discomfort due to room temperature, massage pressure, music volume or any other condition or circumstance, please alert your therapist immediately.
Pregnant Guests
Our Spa Concierge will guide you to the best treatments for you. We recommend avoiding treatments using deep pressure and heat. Treatments specifically designed to safely relax mothers-to-be may be enjoyed after the first trimester. Please advise us of your due date when booking your appointment.
Valuables
The Spa at Rosen Centre is not responsible for loss or damage to personal articles and valuables during your visit. Please do not bring valuables to The Spa or store them in your spa locker. For your comfort, please remove all jewelry prior to your treatments.
Spa Etiquette
To ensure all our guests enjoy a relaxing experience, please respect all guests' right to privacy and serenity. Please refrain from using mobile devices and taking photos in The Spa areas.
Prices & Service Charge
We accept all major credit cards. Payment may be made in advance or charged to your guest room at any of our Rosen Hotels & Resorts. Treatment prices do not include gratuities and are subject to change without notice. For your convenience, a 20% service charge will be added to all treatments or services rendered. Additional gratuities are at the guest's discretion.
Gift Certificates
Spa Gift Certificates are an ideal way to honor any occasion and can be redeemed for services, packages, and retail products.
Spa at Home
Take The Spa at Rosen Centre spa experience home with you with unique gift items and our signature collection of Pure Fiji products used, during your treatments.
Spa Parties
We offer an ideal environment for your corporate or client outing, birthday, anniversary, bachelorette, bridal shower, girlfriend getaways and baby shower gatherings. Let our Spa Concierge assist you with all the details.

Request an appointment